The Russian Orthodox Church
The Moscow patriarchate
The Tver metropolitanate
The Bezhetsk eparchy
Official site of Krasny Kholm St. Nicolas' Hierarchal Residence
The site was created with the blessing of Bishop of Bezhetsk and Vesyegonsk Filaret
Spherical panorama
of the monastery
​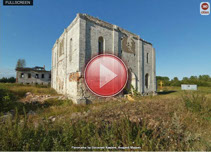 St. Nicholas - St. Antony's Monastery
The monastery was founded in 1461, when St. Antony, probably came from Kirillo-Belozersky monastery, settled in the place. The construction of the white stone cathedral in honour of St. Nicholas began in 1481. In the same year St. Antony died and was buried on the territory of the monastery (the location of his grave is unknown nowadays).
15-16 centuries were the period of spiritual and material flourishing. Many boyars and nobles contributed to the monastery: Tyutchevs, Sheremetevs, Neledensky-Meletskies, Milyukovs, Buturlins, Shcherbakovs and others. In Time of Trouble, in the beginning of the 17th century, the monastery was ravaged but restored quickly. After the revolution of 1917 the monastery was closed and in 1930's its buildings were ruined.
The founder of the monastery - St. Antony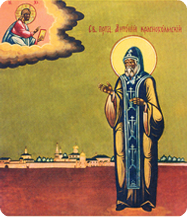 Temples and other monastic buildings need urgent restoration.
The Archbishop of Tver and Kashin Viktor made a decision on the preparation to the registration of the active monastery in 2010.
In 2013 St. Nicholas - St. Antony's Monastery was registered as the Krasny Kholm St. Nicolas' Hierarchal Residence. Hieromonk Silouan (Konev) was appointed father superior of the residence.
Liturgies are performed every Saturday and Sunday and on holidays in the Church of St. Zosimus and St. Sabbatius in Sloboda village.
For charitable assistance for the monastery and for other questions contact hieromonk Silouan (e-mail: siluan-k@yandex.ru)
Extant buildings with the status of objects of cultural heritage of federal importance:
St. Nicholas' cathedral (1481-1493)
​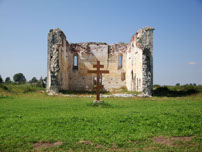 One of the most ancient architectural monuments on the territory of Tver oblast (only three walls remained)
Church of the Intercession (1590-1594)
​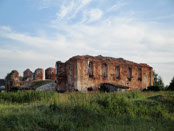 Two walls remained
Church of the Ascension
(1690)
​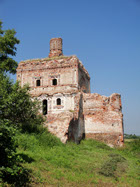 Brethren's building
(1685)
​

Father superior's building
(1748)
​

Brethren's small building over the gates (1690-1697)
​

Northeastern tower
(1697)
​

© 2014. Krasny Kholm St. Nicolas' Hierarchal Residence
The Russian Orthodox Church, the Moscow patriarchate, the Tver metropolitanate, the Bezhetsk eparchy.